2012/01/02: 3 or more tools available, MEELIONS OF NEEDLES
---
As an alternative to the needle and floss method, one of the easiest ways to rehair yet! This tool is similar to the one pop-girl sells / has sold, but not the same.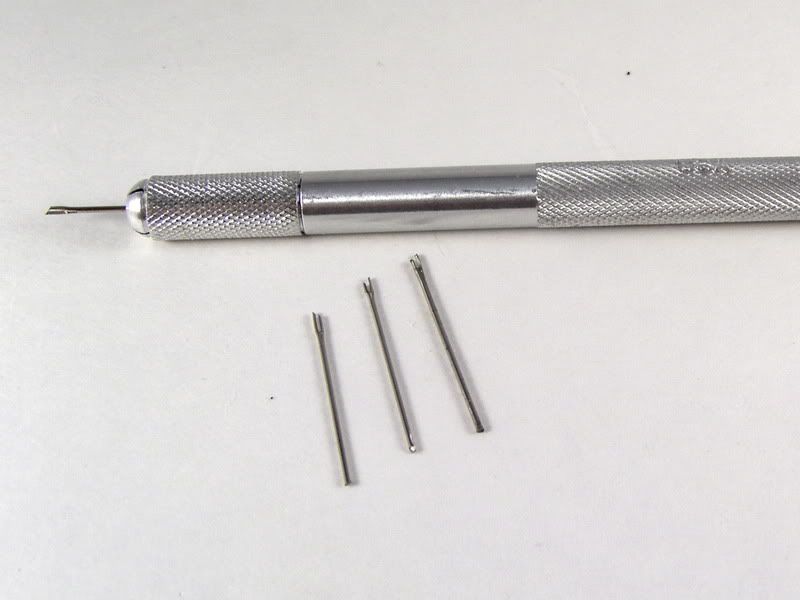 Tools cost $8. Aditional needles are $0.75.
Tool sports a 4.75" lightweight metal handle which opens easily to replace your needles, and holds them in snuggly when tightened. Each tool will come with a clear protective lid and three rehairng needles. Needles are cut by hand with a machine and are free of burrs. Please note that needles may vary in length and angle.
---
Shipping
Shipping Tools (and extra needles):
US First Class* with DC $3.00 (2 - 8 days)
US Priority with DC $5.00 (2 - 3 days)
Int'l*: PM for Quote (weight is approx 1oz)
Multiple tools, US or Int'l: PM for quote

Shipping Only Needles:
US in an Envelope: $0.44 (a stamp)
US in bubble mailer with DC $5
Int'l*: approx $0.98 (PM for definite)
Tool components are purchased locally and excepting a tornado blowing through, should be easily enough to acquire. If I have everything on hand, it should take no more than 3 days to prepare everything and ready it for shipment. If I need to make more tools, it won't take more than a week.
Shipping marked with asterisks will require a trip to the post office during their normal business hours, and may result in up to a week delay for shipping depending on my work availability. Shipping without astersiks can be done from home or dropped at the office whenever I'm able, so may ship out sooner. I will update you on the status whenever something new happens. (Packaged, shipping, etc)
---
Payment
Paypal is the prefered method of payment. Feel free to send a bit extra to cover paypal's fees, but this is not at all required. If paypal is simply not an option, please contact me and we'll see if we can work something out.
I may also consider trading tools/needles for baits or hair.
---
Returns, Refunds, Etc:
If you change your mind and want a refund, all items must be returned to me before a refund will be issued less shipping costs. Defective items must be returned to me before I'll ship out a replacement.
Shipping needles in an envelope with a stamp is a less expensive way to ship, but I cannot put delivery confirmation on an envelope that way. I cannot be held responsible for items lost in the mail with out delivery confirmation. I will provide a tracking number on what I can.
---
To Order
Send me a PM with the following information.
Arena Name:
Name and shipping: (this is EXACTLY how it will appear, so please check spelling, etc.)
[0] Tool + 3 needles
[0] Extra needles
Shipping choice: (if int'l, leave blank)
---
Dolly Hair's Text/Photo Tutorial:
x
Okiegurl1981's Video Tutorial:
x