Welcome to the 8th Annual MLP Arena Holiday Swap!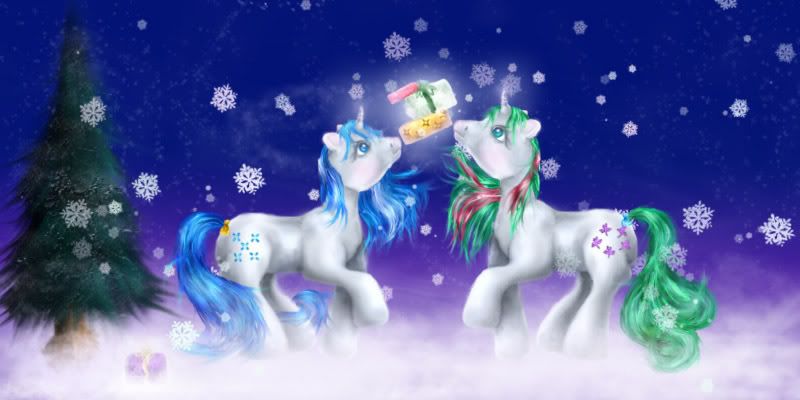 We very nearly thought that this year the Swap wouldn't be able to run – the database errors and the slowest Arena ever known!
But thanks to an angel who farted his way though the Arena with his magic wand we are back and better than ever!
So, welcome, welcome, welcome to this years extravaganza!
We have the following swaps this year!
$10 Pony Swap
$30 Pony Swap
Sock Swap
Card Swap
Custom Swap
Slaughterhouse Swap
$5 Random Gift Swap
Bookmark Swap
Children's Swap
And a run down of each -
The $10 and $30 swaps are our usual swaps we hold every year!
These swaps are for ponies and their accessories only. Any extra gifts you wish to send are above and beyond the $10 and $30 limit.

Our Sock Swap has been a fantastic favourite since it debuted a couple of years ago. This is for people who are looking for something different for a swap. The limit is $10 and any extras are above and beyond the $10 limit!
Our card swap is held and run by our amazing Kiwi. People receive lists of 7-10 Arena members and send out Holiday cards! You can decorate these cards as much as you like, including parcels of glitter…
The Custom swap is run by our wonderful Pop-Girl. This is a skill based swap, and further details will be available in our Customs forum. This swap always ends up amazingly.
The Slaughterhouse swap is brand new – and further details will be available in the SH forum. Remember, no entry without mouth swabs, blood samples, and a purity test.
$5 Random gift swap – this is new too! You send just the perfect assortment of little gifts, handmade treasures and holiday wishes in one small package.
You will get your partners lists of likes, and go from there!

Bookmark swap – A variation on our usual art swap, this is a decorative exchange, so you still get love through the mail! Sourdoughstomper will be pioneering this swap, and will have more details soon!

Children's Swap – this took a skip last year, but since then we have had so many new members, and new babies! This swap is for your kids to enjoy, and to make new friends with!
PM to apply: Right now!
References to be submitted: ASAP!
Wishlist due: November 12th
Receive Your Secret Swap Person Name: As soon as possible!
Start Shopping: As soon as possible!
Packages must be delivered by January 10th!
Here's the rules!
These rules must be thoroughly read and complied with. To prove you have done so, there will be a secret word hidden in this post.
In all applications you must include this secret word.
BITS, BOBS & INFORMATION
***Your swap level DOES NOT include the price of shipping. Do not cheat your swapper! Make sure the ponies equal to the swap level or if anything, exceed. Shipping is out of your pocket.***
References:
***References are only for trading and selling ponies. Ebay does not count but if you are short one reference it may help. References need to be from members of the pony community that can easily be checked. ***
If you want to participate in the $10 Swap then you need at least 7 references.
If you want to participate in the $30 Swap then you need at least 10 references.
If you want to participate in the $10 Sock Swap then you need at least 5 references.
If you want to participate in the $5 Random Swap you need at least 4 references.
If you want to do more than one swap that equals over $30 then you need at least 13 references.
You can enter any amount of swaps you please, but entry will be at the moderator's discretion.

All amounts are in American dollars. (USD)

Pony Wishlists:
*Wishlists need to be for 20 ponies or more, but not more than 40 ponies please! Take your time creating your list and choose wisely.
*We will have the final say on a ponies value that's on your wishlist.
*If you have a pony on your wishlist that is over your swap amount, we will remove it.
*Let us know which flaws are totally unacceptable to you.
*Let us know which flaws are ok with you.
*Let us know if you are a strictly a certain type of generation collector.
*Let us know if you are a G3 mint in box collector.
*No G1 MIB/MOC collectors.
*When sending your wish lists, it is imperative you send your current mailing address as well.
*Your wish lists are final. We can not take changes to them once they have been sent to your partners. Please keep this in mind. We will not change your wants lists, if you have joined several swaps and received ponies.
Rules:
Unfortunately, due to a few miscommunications, we have to spell out the rules. Please read these and do not join the swap if you cannot follow them.
- A swapper cannot withdraw from any swap once the wishlists have been exchanged
.
- All items must be wrapped.
- All packages must be shipped in cardboard boxes, not bubble mailers, unless you have spoken to us regarding this.
- All ponies purchased for your swap partner must be on their swap list. There is no point buying your partner Bubbles, if she really wants Tootsie.
- Extras are not compulsory, but are generally expected.
- Extras do have a monetary limit of $10 per swap. Please do not exceed this.
- Please don't send wet ponies.
- A card, store bought or hand made, telling your swapper who you are is appreciated!
- The swap limit DOES NOT include the costs of ANY shipping. Please keep this in mind.
A teaser post is required, this is usually started by a moderator.
A brag post is also required so we can ensure you have received.
The swap is secret, so we will not reveal your swappers surprise, and we ask that you keep the secret until your box has been received.
Please ship on time. If you need additional time, or need to ship early, please let the moderators know urgently.
Shipping Criteria:
Airmail only for international, no exceptions.
For US residents shipping to US residents, first class may be used but Priority mail is encouraged.
Postal receipts are required; if something goes missing we will need to check.
Delivery confirmations and/or insurance is highly suggested.
Ponies should be well wrapped for shipping.
Let us know if you are willing to ship internationally or not.
After Shipping tidbits:
PM HOLIDAYSWAP to let us know that you have shipped your person's ponies. This is a must. We have to know once you ship your package.
Please also let us know that you have your shipping receipt and which shipping method you chose.
Other Rules of the Swap:
Gifts must be wrapped in gift wrapping paper.
Do not use newspapers or colored tissue paper.
Do not ship wet ponies.
Do wrap ponies individually before boxing.
Do use some sort of padding like bubble wrap, white tissue paper, peanuts, etc.
Common Mistakes:
Over valuing ponies.
Not buying early enough.
Letting it slip who your secret person is.
Not being exact about flaws you will/not accept.
Not asking for advice when needed.
Not turning in Wishlist on time.
If you list ponies on your Wishlist for less than the swap amount, then do make a note that they are under. So your swapper knows to get you more than just that one pony.
Secret Word:
As per usual, we ask that people include a secret word to prove they have read and understood our swap rules. Our rules are very strict this year as we have had a few years of swaps where one bad seed has ruined the swap.
The secret word this year is Fart.
Yes, I'm quite serious!
If this word is not included in your initial PM, your PM may be ignored. We get hundreds of PMs regarding this swap, and we can't chase everyone up!
Flaws:
When shopping for ponies, keep in mind that ponies may not have ingrained dirt, smooze, cancer or mold. Haircuts are ONLY acceptable if your swapper indicates this on their Swap Form. Ponies may not have nibbles or chunks missing. Ponies need to be in or close to NEAR MINT condition unless specified.



Are you ready?!
I am!
SQUEEEEEE!
[Please note these rules & regs are NOT to be copied in any way.]