test
---
#1: test Author: CorpseyPuff,
Location: Western PA
Posted: 0


----


Greetings fellow pony lovers!

The past few months have been crazy busy so I haven't had a lot of time to make any new Demons or frequent here as much as I'd like.

Anyway, as my subject implies, I have both good news and bad news in regards to the Demons.

Here's the bad news first: As of August of 2011, the majority of the Teeny Demons figurines were sold out and due to lack of sales, OddCo will not be making a second series. They said *if* the economy picks up, they may consider making them again, smaller and more cost effective.

So, now onto the good news! Carousel Checks is now carrying My Little Demon as several series of checks! You can see all 11 series here: www.carouselchecks.com...&c=216

Here are a few samples: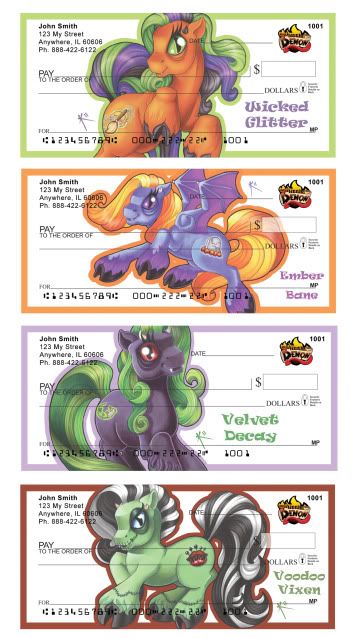 I've also got lots of demony goodness lined up for this year! I plan on having the new Coloring Book available by this spring and the 2013 Calendar available by this summer. If I'm really ambitious maybe I'll even have the calendars for the MD pony meet this year!
---
---
---