Screen Name:

Leonaenae


Email:

sweetfilly101 @ msn.com (Also you can simply PM me)


Commissions are

: ALWAYS

open


Also at the bottom is a tidbit on my Boyfriend and Best Friend's Small Business for Chainmail, Costumes, and Other Fun stuff


Mediums:

digital, any traditional medium (pencil, pastels, paint, etc)


Art Samples:

My DA
I will draw ponies, anime, and realism (equine and human)


As I draw newer things my Examples will Change =3




Realism


The more detail/ shading/ color/ etc The longer it will take. These take me a good while to complete.


%20

%20
Semi-Realism
This%20comes%20the%20most%20naturally%20to%20me,%20and%20I%20knock%20these%20out%20within%20a%20couple%20days.%20I%20also%20mess%20with%20this%20style%20a%20lot,%20so%20if%20you%20do%20not%20want%20large%20hooves%20let%20me%20know!
%20
%20
My%20Little%20Pony
My%20pony'esque%20style%20<3%20Because%20I%20am%20a%20My%20Little%20Pony%20lover%20hehe
%20
%20

%20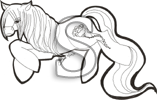 Anime




Pricing:

%20Varies
Traditional%20Mediums%20will%20always%20cost%20more%20than%20Digital.



Fullbody%20Ponies:

%20


If%20you%20do%20not%20want%20a%20fullbody%20pricing%20can%20be%20negotiated




Sketch:

%20$.75


Line%20Art:

%20$2.00


Digital%20Color:

%20$5.00


Traditional%20Color:%20

$10.00



Additional%20Ponies:

%20+$3.00%20per


Background

%20Depending%20on%20Complexity%20+$5.00-$15.00



Anime

%20

[S]%20Sketch%20[LA]%20LineArt%20[DC]%20Digital%20Color%20[TC]%20Traditional%20Color




Bust:

%20[S]%20$.75%20[LA]%20$1.50%20[DC]%20$3.00%20[TC]%20$5.00


Halfbody:

%20[S]%20$1.50%20[LA]%20$3.00%20[DC]%20$5.00%20[TC]%20$8.00


Fullbody:

%20[S]%20$2.00%20[LA]%20$4.50%20[DC]%20$10.00%20[TC]%20$20




Payment:

%20I%20prefer%20Paypal,%20but%20Personal%20checks,%20cashiers%20check,%20money%20order,%20cash,%20and%20ponies%20are%20also%20welcome%20(All%20in%20USD)


Shipping:

%20Is%20extra,%20I%20keep%20it%20as%20low%20as%20possible
Of%20course%20receiving%20art%20via%20EMAIL%20is%20always%20free

++++++++++++



Custom%20Creation%20Trinkets


DeviantArt%20Page


Email:%20

Custom.Creation.Trinkets@gmail.com


Elizabeth%20Clark%20#

540-597-9095%20(Costumes/Cosplay/Jewelry)


Raymond%20Whitis%20#

540-330-7655%20(Chainmail;%20Bikinis,%20Shirts,%20Rings,%20Bracelets,%20and%20more)